This is something I meant to do months ago and said I would but haven't gotten around to it until today. Yay procrastination!
Anyways, while listening to the season two commentary for Shawn (and Gus) of the Dead forever ago they talked about Dule's mom and Steve's dad having a cameo in the episode and they pointed them out. So I just went and took a screen shot of the 'rents for all to see! I'm sorry about the poor quality but the video quality wasn't the best in and of itself.
Dule's Mom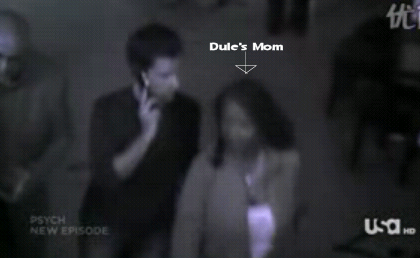 Steve's Dad:
Dule's mom was at the part when Shawn's trying to hide in the museum and tries to hide behind "the poor woman" as a Gus so lovingly calls her.
Then Steve's dad is in the last scene at the SBPD.